TV Wall Mounting, Shelves Installation, Furniture Assembly and Wall Art Hanging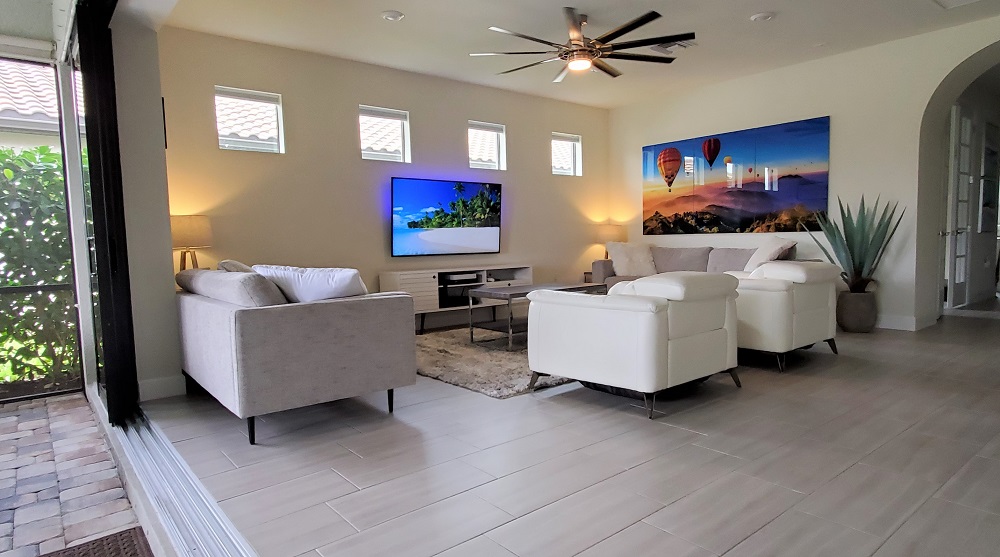 As a handyman company, we provide various services which can range from a TV installation to shelves installation or furniture assembly. If you need to install new lights, fans, curtains, shutters, blinds, smoke detectors, cabinets, locks... we can also do that for you!
Regarding TV wall mounting, our price packages may vary depending on the TV size, the type of wall and the desired positioning. You also have the hidden cables option if you want it.
It will be possible to hide the cables depending on the structure of the wall : Drywall with metal studs or wooden studs, interior plaster walls with wooden studs, custom designed walls with cavity. This will not be possible with brick walls, concrete walls, exterior plaster walls, cinderblock walls or cement walls.
FAQ about TV installation
What is included? It's entirely your choice. You can buy a TV mount and YOUR LOCAL HANDYMAN ESTERO will install it for you, just make sure you purchase the correct type of mount before your booking starts. We can also help you to choose one if you're not sure or buy it for you.
How long does it take? A basic TV installation on drywall will take around 1.5 hours. The duration may change depending on the type of wall or if we have to remove an old TV stand for example.
What is my type of wall? You can test your wall by knocking on it. If you get a hollow sound, it's probably a drywall, plaster or wood. If you don't hear an echo, it's probably brick or concrete.
Feel free to contact us for any question about TV mount, shelves installation or furniture assembly.
In the same line, YOUR LOCAL HANDYMAN ESTERO offers its services for mounting shelves or assembling furniture. We can also help you put your paintings on the wall if you are afraid of not drilling your walls in the right place!
If you already have a soundbar, we can install it at the same time and hide the cables. If you want to add a soundbar to your current rig, we do that too!